Paramtents
Place of Origin: Guangdong, China (Mainland)

Product: Vehicle Mould

Shaping Mode: Plastic Injection Mould

Size: customized

Product Material: metal
Packging & Delivery
Briefing
plastic mold spare parts
1.Experience above 8 years.
2.ISO 9001 certified
3.factory price
Detailed
High precision Plastic mold spare parts processing with imported material
yizecatherine

Factory Show
Surface grinding room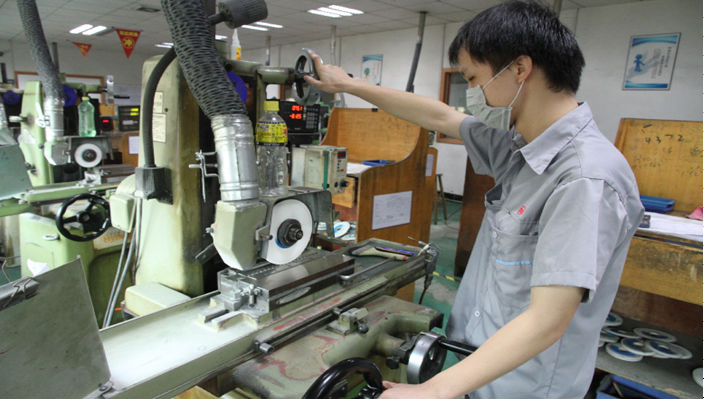 Skilled workers make perfect parts
EDM machining room
Advanced equipment ensures great work
Insepection room

Our inspection equpments are imported from Japan,Switerland,etc,greatly ensure the accurate inspection.All our parts are 100% inspected before shipment.Good quality wins good reputation.Our parts are recognized all over the world
Our Services
Turning, CNC turning, milling,deep hole drilling,cylindrical grinding,enterless grinding,surface grinding, wire cutting,CNC,profile grinding, EDM machining are the in-house service offered.Also polishing,laser marking,electroplating are available for us by outsource supplier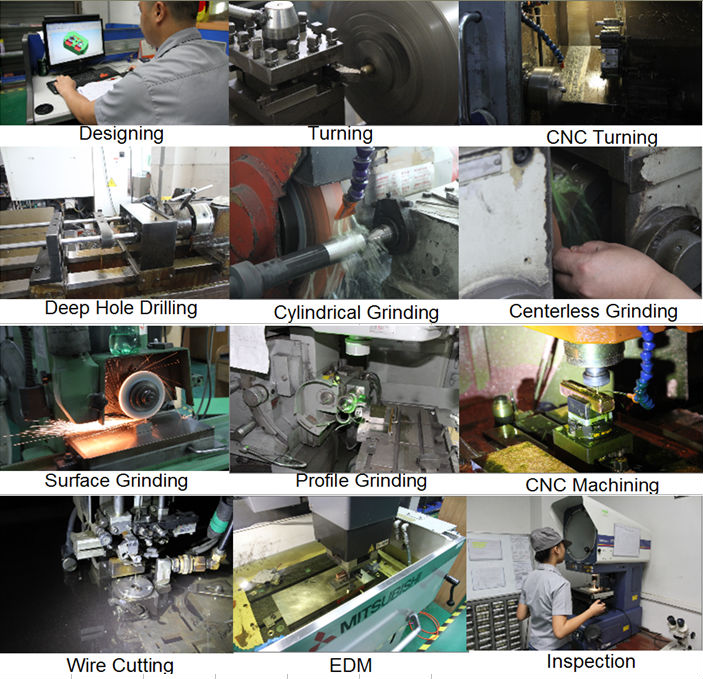 Product information
Product name

plastic mold spare parts

Briefly Description
1. mold part material brand: Hatachi, Daido, ASSAB,Buderus, Bohler,etc
2.common material used: SKD61,SKD11,SKH51,HPM7,DC53;1.2343,1.3343,;S7
3.Grinding precision within 0.001.EDM/wire cut precision within 0.005mm
3. surface grinding, wire cutting,Electrode making,EDM are the main production process
4.height gauge,microcalliper,profile projector,tool microscope, comparator are the main inspection equipment
5.more than ten years' experience in this field
6. ISO9001:2008 certified factory with good quality and management
7.100% of the parts are exported to countries like Japan,USA,Europe,Southeast Aisa,etc
Standard
JIS AISI DIN
Usually packaging
Paper of Box
Manufacturer
Yize Mould
Yieldly
Dongguan China
Supply capability
1000PCS/DAY
Terms of transport
express(DHL,FEDEX,TNT,UPS,etc)
Websites
http://..........com http://..........com.cn/
Our Products
1)production mode : accroding to drawings and samples to process
2)material:tool steel and high speed steel,SKD61,SKD11,SKH51,etc
3)technique standard : according to national standard GM, JIS,DIN,AISI ect, and other national standard to making
4)4)technique advantage : grinding precision within 0.001mm, EDM/wire cut precision within 0.005mm
grinding/EDM angle clearance within R0.01.
5)utilization scope : precision punch mold, precision plastic mold, precision auto mold, precision medical mold, precision computer connector mold and other factory automation part etc. with many areas
6)production equipment :Two sets of milling machines, two sets of CNC lathe, two sets of cylindrical grinders,one deep hole drilling machine,30 sets of surface grinders,12 sets of EDM machine,2 sets of CNC machine,4 sets of wire cut machine
7)product accuracy : diamension tolerance +-0.001mm, axiality within 0.002mm,roundness within 0.0015mm, surface roughness within Ra0.025, straightness within 0.002
8)packaging type : inner package with recycle plastic box after anticorrosive oil spraying,out package with sponge and PE bag.
9)cooperation customer : Japan,USA,Europe,Southeast Aisa,etc
Material Type: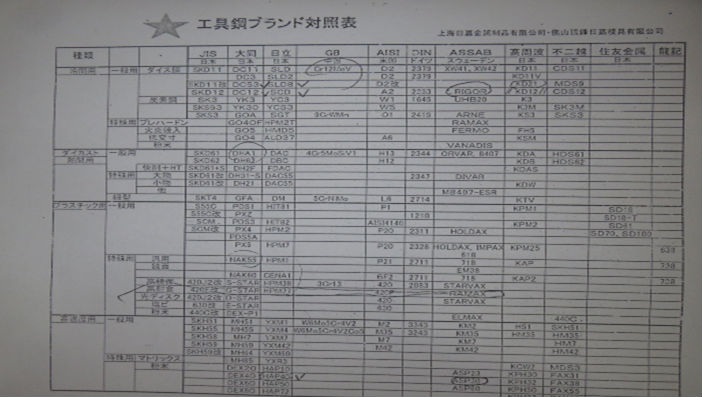 plastic mold spare parts --samples
Production Flow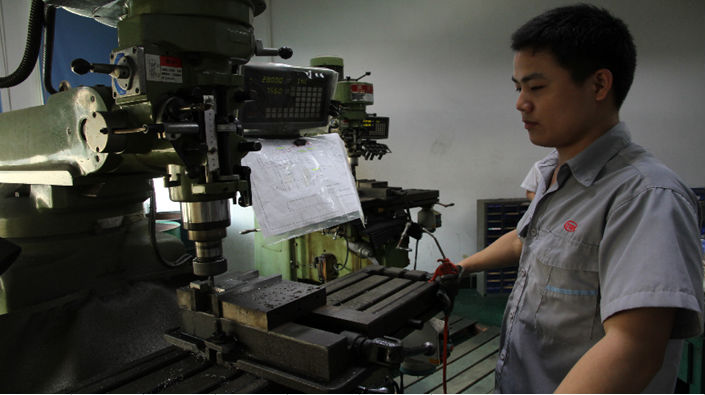 Two milling machines help us to handle the parts with larger tolerance holes and threads. It saves much cost for us and greatly shorten the time.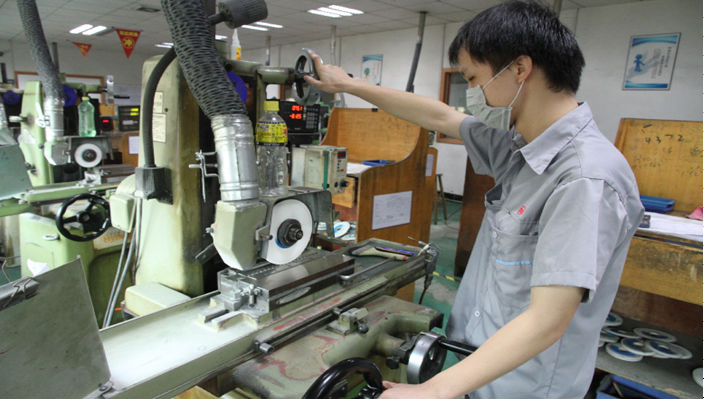 30 sets of grinding machine and skilled workers enables us to make large quantity mould parts with high precision in a short time.Our grinding precision can be within 0.001mm.We supply to world leaders like TE,JAE,JST,etc.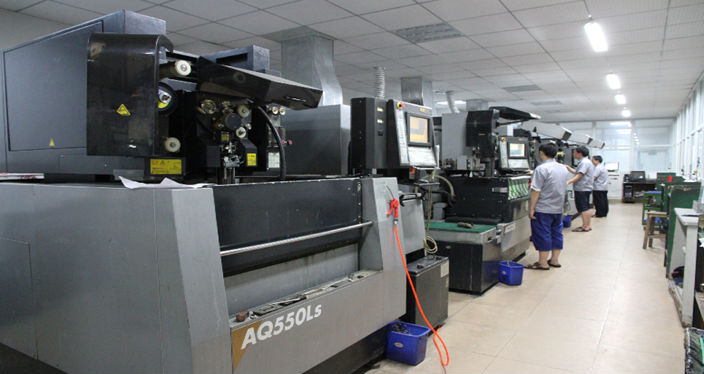 We have 4 sets of sodick wire EDM machines, it ensures general tolerance within 0.005mm,flatness,verticality,and linearity within 0.002mm.The smallest wire we use is 0.1mm.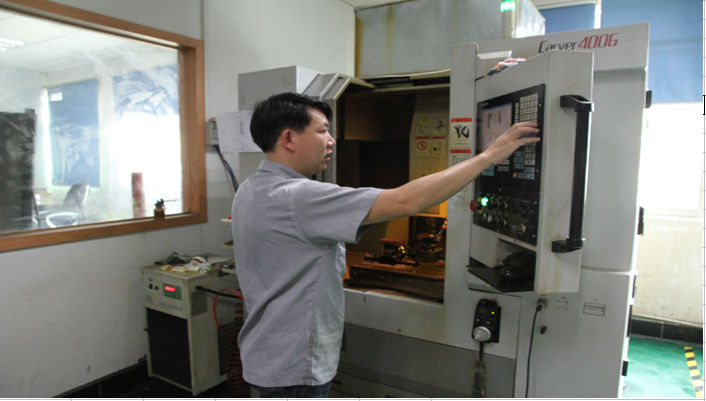 We have two CNC machines that are mainly used to make the electrodes. Copper and Tungsten copper are the main material. Our designers design the electrode and the CNC department makes it out in house. It greatly ensures EDM quality and fast delivery.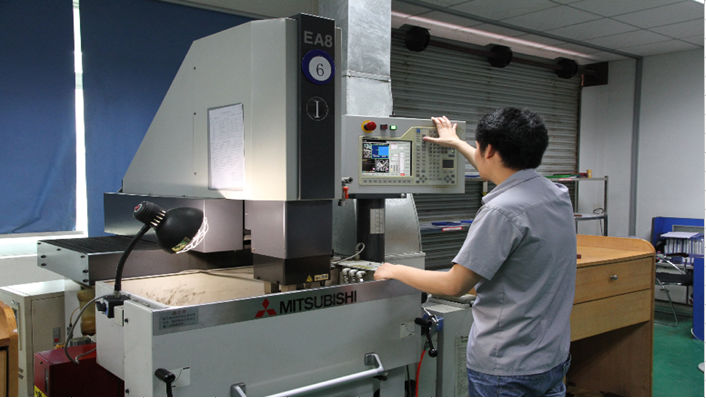 4 sets of Mitsubishi EDM machines and 10 sets of other brand EDM mahines make us possible to ensure EDM precision within 0.005mm.For some parts that need special smoothness even mirror surface,we could handle with the mitsubishi EDM machines,which ensures Ra0.15.
Customer visit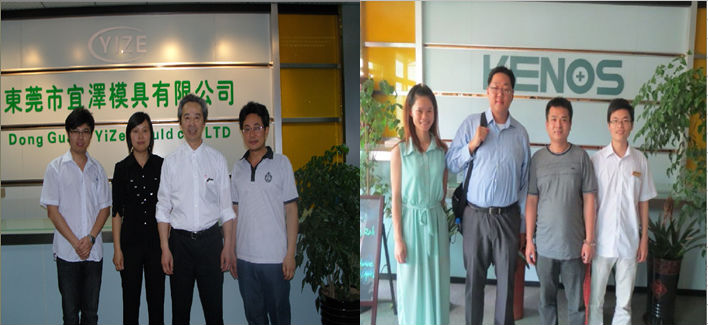 Cutomer from Japan Cutomer form the USA
Company Information
Dongguan Yize Mould Co.,Ltd. is a manufacturer specializing in producing precision mold parts for 8 years. Our quality products are used in many fields such as precision connector mold parts, plastic mold parts, punch mold components, stamping mold parts, die casting mold parts,machinery,core pins and sleeves, tungsten carbide mold parts, etc.The advanced technology and high quality service have obtained us a good reputation from customers at home and abroad.
Yize adopts advanced manufacturing equipments and processing technology that from Japan.Our products are 100% exported, mainly Japan, United States, Southeast Aisa and Europe. We mainly make nonstandard parts as per drawing or supplied Grinding tolerance within 0.001mm,EDM and wire cut precision within 0.005mm,axiality within 0.002, circularity 0.0015mm, surface roughness Ra0.025,linearity 300mm within 0.002 are the production precision available.
We passed the ISO 9001:2008 on 2013,it is a great honor and result of our long term focus on this field.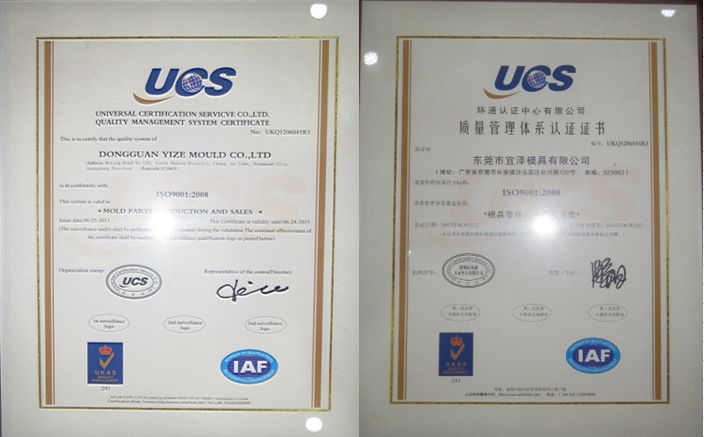 yizecatherine is here to serve you! recommend you plastic mold spare parts
Contact Yize Mould
Dongguan YIZE MOULD Co.,LTD
plastic mold spare parts Address: Hexing Road No.122, South Shatou District, Chang'an Town, Dongguan City, Guangdong Province
plastic mold spare parts TEL: 0769-81888 522
plastic mold spare parts FAX: 0769-81888 548
plastic mold spare parts Website: ..........com
plastic mold spare parts E-mail: Jack..........com